"Our multidisciplinary approach makes it possible to provide well-considered advice and pragmatic solutions."
Johan Westerhof
Partner / Lawyer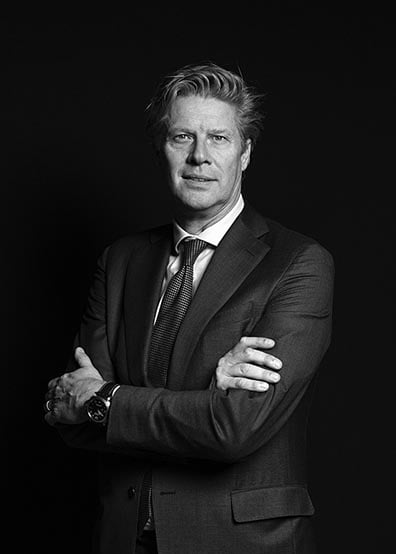 Background
Johan Westerhof has worked as a lawyer at HVG Law LLP (and its predecessor firm) since 1991 and became a partner of the firm in 1999. Since 2009 Johan is a member of the Board of HVG Law LLP and as from January 2010 he is the Chairman of the Board. He is a member of the Management Team Tax/Law of Ernst & Young Netherlands (HVG Law LLP has a strategic alliance with Ernst & Young Belastingadviseurs LLP).
Johan is active in the field of corporate law in the broadest sense, insolvency law and litigation. He specialises in:
Supervising of restructurerings
Counselling companies and entrepreneurs with (financial) difficulties
Advisement on and enforcement of security rights
Supervising of financing and refinancing arrangements
Suspensions of payments and bankruptcies
Advisement on and conducting legal proceedings with regard to directors' and officers' liability, acting fraudulently in respect of creditors, shareholders' disputes and creditors' disputes
Supervising the restarting of companies
Expertise
Various District Courts in the Netherlands appoint Johan as receiver in suspensions of payments and as trustee in bankruptcies.
He was and is involved in the winding-up of a large number of bankruptcies and suspensions of payments, which also include companies quoted on the stock exchange. He assists clients who need advice in the field of restructurings, directors' and officers' liability and corporate governance.
Johan advices and assists directors, supervisory directors, stockholders and trade creditors who may be faced with misfortune and whose interests have been violated. If necessary or desirable, legal proceedings will be conducted.
Additional information
Testimonials clients – Legal 500 2021:
"Johan Westerhof is very experienced and practical in his approach."
"Johan Westerhof is very capable of leading a team and is fun to work with."
View the summary and testimonials of Johan Westerhof in de Legal 500 Europe, Middle East & Africa 2021 here.
Johan (1965) graduated from the University of Groningen in 1990, in Private Law and Corporate Law. In 1989, he studied International and European Law at the Catholic University in Leuven, Belgium. He successfully completed the Grotius specialist training in Insolvency Law in 1995. Furthermore, he is an alumnus of Harvard Business School where he successfully completed the AMP175 program in 2008.
He is a member of the Netherlands Association for Insolvency lawyers (INSOLAD) and of Insol International.
Contact information
johan.westerhof@hvglaw.nl
+31 6 21 25 20 60